File Encryption
On Mac using Disk Utility
Put the files you want to protect into a folder and use Disk Utility to create an encrypted disk image of the folder. Open Disk Utility and go to File > New Image > Image from Folder. Select the folder you want to encrypt and click Choose.
Enter a name for the disk image in the Save As box and select Where to store the DMG file.
Select the Encryption type (128-bit or 256-bit AES). Enter a Password and then Verify the password on the popup dialog box that displays and click Choose.
Select read/write from the Image Format dropdown list. Then, click Save.
A progress dialog box displays and a message saying that the operation was successful when the process is finished. Click Done.
To access the files you added to the disk image, double-click on the DMG file and enter the password when prompted. Then, click OK.
Disk Utility adds the disk image to your desktop. Double-click the disk image icon to access the files inside it.
Be sure to eject the disk image when you're done using it, so your files are password protected again. To do this, right-click on the disk image icon on the desktop and select Eject "Name of Disk Image" from the popup menu.
On Windows PC using 7-Zip:
Download the most modern non-beta version from here and install with default options.
Using 7-Zip
As default 7-Zip installs itself to with "explorer extensions" that allow you to right click on items on the desktop or in windows explorer to compress files. Z-Zip has its own file format 7z which is more efficient at compressing files than the standard zip extension, but this will mean the person you are sending the file to will also have to use 7zip. Using the zip format will enable people using other programs to de-compress the file.
Right click on the files or folder you wish to compress and encrypt.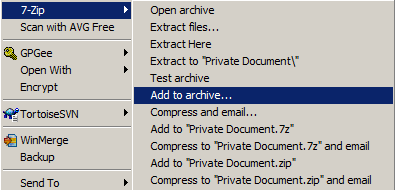 Firstly change the Archive format to Zip (or use 7z if both you and your intended recipient use 7zip), then change the encryption method to the robust AES-256, thirdly enter your password. Then click OK. The rest of the options can be left as default.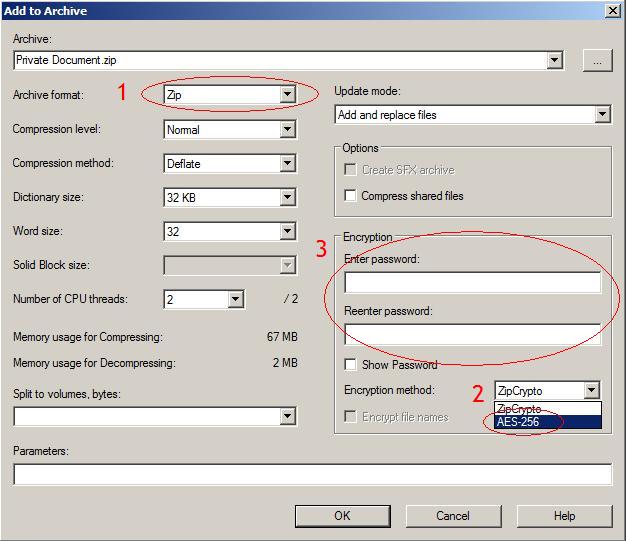 Decryption
Simply right-click on the file, select extract then enter the password when requested.
On Windows PC using WinRAR:
Download the most modern non-beta version from here and install with default options.
Select the Folder or the file you want to password protect. Just right click on it and select "Add to archive".
Now in the window that opens, just navigate to "Advanced" and in that click on "Set password".
Check the option to "encrypt file names" .